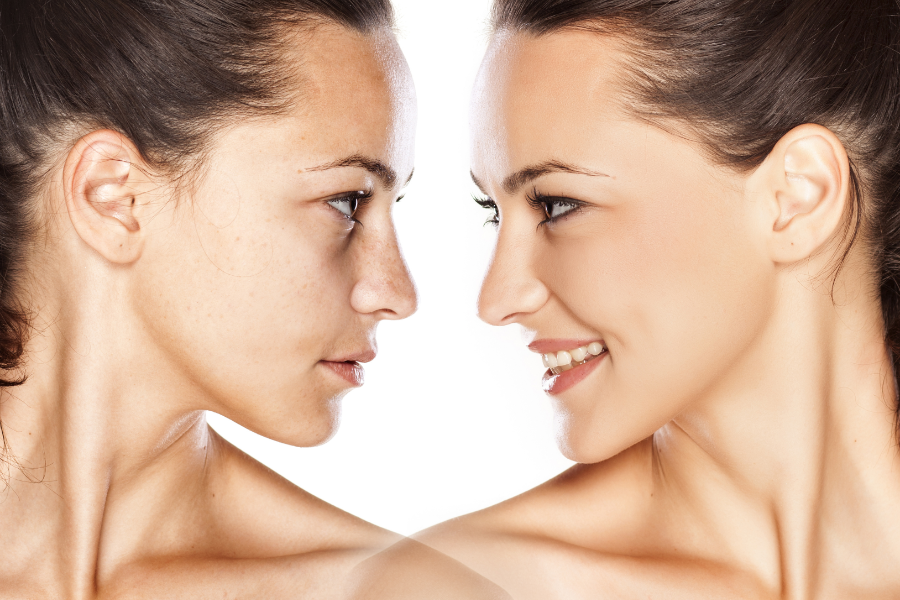 Problematic Skin
Uncover the smooth younger skin beneath what you have now. Our Prescriptive Facial Treatments gently remove your top layer of skin, uncovering the new layer that's undamaged. This is the layer that looks fresher and is untouched to external damage.
Our Prescriptive Facials Available
Designed to treat a range of specific skin conditions such as Acne, Dry Skin, Rosacea, Tired or hyper-pigmented skin the iS Clinical prescriptive facials feature an intensely revitalising rejuvenation masque formulated with hyaluronic acid, aloe vera, green tea extract, licorice root extract, grape seed extract and rosemary to smooth and hydrate combined with a unique combination of the highest grade pharmaceutical strength complexes and serums to create a bespoke and highly effective treatment plan relevant to patient needs. This treatment is best provided as part of a skin consultation & analysis.
FIRE AND ICE RESURFACING TREATMENT
MAXIMUM RESULTS
ZERO DOWNTIME
ANTI-ACNEIC
ANTI-AGEING
Pioneered in Beverly Hills and coveted by A listers globally, this infamous intensive treatment is clinically formulated with the purest pharmaceutical grade ingredients and designed to rapidly and safely resurface the skin, reduce fine lines, address problematic skin and encourage cellular renewal.
The Centrepiece of this remarkable system is a combination of two treatment masques; The extremely powerful Intensive Resurfacing Masque is formulated with Sugar Cane Extract (potent natural source of Glycolic Acid), Retinol (Vitamin A) & Niacinamide (Vitamin B3) whilst the Rejuvenating Masque, formulated with potent antioxidants, Sodium Hyaluronate (Hyaluronic Acid), Aloe Vera, Green Tea, Grape Seed & Rosemary Extract soothes, hydrates and nourishes. This treatment is complemented by a unique combination of cosmeceutical serums & cremes to guarantee one of the most effective results driven facials you'll ever experience.
EYE BRIGHT TREATMENT
A targeted treatment, eye bright is designed to address the needs of the delicate eye area by employing a best selling selection of IS Clinical formulas and periorbital massage techniques to reduce under eye puffiness, dark circles, fine lines, encourage microcirculation and provide maximum hydration. The treatment results in a firmer, brighter, smoother eye area. This treatment can be performed in isolation or integrated within a complimenting treatment or device led procedure.
FOAMING ENZYME OPTIMISING TREATMENT FACIAL
Designed to revive tired and congested skin, this results driven treatment facial features a powerful yet soothing Foaming Enzyme Masque system, combining papaya & pineapple enzymes with a potent clinical level grade of glycolic acid. This professional treatment produces a luxurious foaming activity while the bio active ingredients exfoliate and deep cleanse the pores to reveal a polished radiant complexion. A intense revitalising masque, copper firming mist and combination of the highest grade pharmaceutical strength complexes and serums are incorporated with a blend of massage techniques to reveal brighter, re-energized and tighter radiant skin.Satisfaction guaranteed.
CANCER CARE HARMONY FACIAL
At the heart of the company's commitment to cancer care and research this soothing and revitalising facial is designed to gently awaken the sense whilst encouraging a restorative balance of harmony to the skin. The treatment is the centrepiece of their globally renowned cancer care programme, alongside their range of carefully selected cosmeceuticals to address the needs of cancer care patients. The Harmony facial captures the essence of refreshing and therapeutic bionutirents and brings forth vibrant energy and circulation. Powerful antioxidants, essential vitamins and low molecular weight penetrating hydrators restore optinum tone, glow and resillience to compromised and fatigued skin.
The Process
Consultation: 15 minutes
Preparation: 15 minutes
Procedure: 45 minutes
Recovery: 2 hours
Integration: immediately
Duration of results: 2 weeks
Cost: £80

Our clinic is situated in Gravesend town centre, opposite Gravesend Railway Station. The transport links available makes it very convenient for many of our clients who travel from London, Bromley, Longfield, Dartford, Chatham, Rochester and Maidstone, who visit us for dermal fillers, lip fillers and anti-wrinkle treatments.