Go back in time with Sculpture Aesthetics
At Sculpture Aesthetics, we offer a variety of specialist beauty treatments to help our customers meet their aesthetic goals. We believe that everyone is naturally beautiful, but we know that beauty isn't all about looks, and that feeling good on the inside counts too. Feeling good about yourself can boost positive energy which helps you to focus on exactly what you want. With the right guidance in aesthetics and beauty treatments, from us, you could build your confidence and turn back time – helping you reach the aesthetic goals you desire.
At Sculpture Aesthetics we offer a professional, friendly service to customers across Kent and beyond, with fully comprehensive treatment options. Our team of practitioners have years of experience across a wide variety of treatments, from dermal fillers and facials to anti-wrinkle treatments and more. We are here to help, but will always set realistic expectations with you. With our expertise in the industry, we always insist on seeing you for an aesthetics consultation before commencing with any treatment. This consultation is free of charge, and allows us to understand your needs, whilst giving our opinions on which beauty procedures will work best for you.
You can request a free aesthetics plan using the form below:
Our clinic is situated in Gravesend town centre, right opposite Gravesend Railway Station, meaning we boast great transport links. This makes it very convenient for many of our clients who travel from Kent and beyond, with customers visiting us from London, Bromley, Longfield, Dartford, Chatham, Rochester and Maidstone. Get in touch with us if you're interested in finding out more about our range of treatments, which include dermal fillers, lip fillers and anti-wrinkle treatments.
Our Values
We aim to give you the best experience we can and pride ourselves on offering the following:
Experience you can rely on
Innovative techniques
Advanced technology
On going support & advice
Meet The Team
Mr Sunil K. Kochhar – Advanced Dermal Filler Practitioner
Sunil is our advanced dermal filler aesthetic pharmacist. He loves new technology, and always brings innovation to his clinic. With an artistic eye, he will guide you to the best outcome from your treatment and help you reach your aesthetic goals. Sunil loves to keep up with new techniques & methods to improve every aspect of his treatments. With what is left of his spare time, he takes every moment to enjoy his favourite hobby of photography.
Miss Priya Mistry – Aesthetic Pharmacist

Priya is a prescribing pharmacist who loves the rewarding nature of her profession.
Alongside working as a pharmacist, Priya has a passion for cake baking and decorating. Having used her creative mindset and eye, she has been able to create her own range of unique fusion cakes.
Priya understands the importance of looking good and feeling great and how these can work in synchronisation. With a strong interest in beauty, skincare, health and well-being, she holds a keen interest to progress in aesthetics.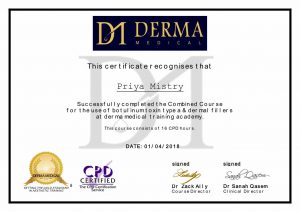 Mrs Nilam Bowry
With over 35 years of experience in the industry, Nilam has treated all skin types. Her speciality is treating problematic skin with unique facial techniques; which she has honed over her years in the industry.
Her caring nature has allowed the clinic to take on roles of skin education and mole scanning. When you are seen by Nilam, she will treat you as a member of her family.
Book a free personalised aesthetics plan